Lose the Fat and Take Back Your Health with Our Men's Products
 It's a common fact that women live longer than men. In a world polluted with chemicals and processed fast foods, there is a magnitude of health and weight challenges faced by modern men. Unfortunately, most men ignore their health until they develop something life-threatening, like fatty liver disease, high blood pressure, or diabetes.
Make no mistake: there are many men who are dangerously overweight and unhealthy. In fact, according to the latest statistics conducted by the South African Medical Research Council, Statistics South Africa, and the Department of Health, over 40% of all South African men over the age of 35 are either overweight or obese.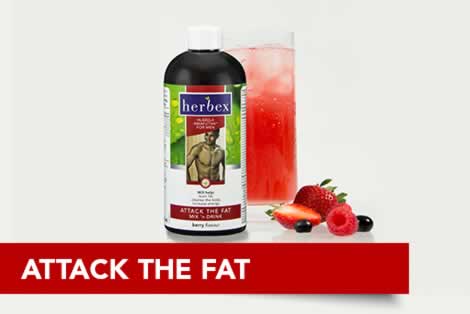 Herbex Attack the Fat Mix n' Drink for Men is a general health tonic, with a tasty berry flavour that will help burn fat, increase energy, boost metabolism and cleanse the body.
If You Don't Have Your Health – You Have Nothing
While an increase in heart disease and diabetes is directly linked to the global obesity epidemic, there is also evidence to prove that excess body weight can cause certain cancers. Yes, there is no doubt that overweight men need to change their lifestyles, especially if they want to live a long and healthy life. Whether you're a woman concerned about your loved one's weight and health, or you're a man concerned about your own weight and health, our men's range of Slimmers products and Fat Burners can help you or your partner become healthy.
We Use Mother Nature's Most Powerful Weight-Loss and Metabolism-Boosting Herbs
We are aware that men burn fat very differently to women, which is why our men's range has been specifically formulated for men of every age. All our men's weight-loss and metabolism-boosting products contain a broad range of powerful plant roots and herbs, as each product makes use of two of Mother Nature's most powerful herbs –guarana and green tea.
Over the years, medical science has proven that weight loss and obesity are a little more complicated than walking or running for 30 minutes a day, doing stomach crunches every morning, and practising starvation diets. You see, the human body is controlled by extremely complex systems that control the appetite and manipulate the metabolism, and these functions need to be managed simultaneously when trying to eliminate fat and boost the metabolism. This is where our men's Slimmers and Fat Burning products outperform.
Live Healthy and Longer with Our Slimmers Range for Men
We provide a powerful health and weight-loss range. Our men's Slimmers products contain over 10 super herbs, including guarana. Acting as powerful diuretics that contain theophylline and theobromine, which are extremely powerful alkaloids, our Slimmers range curbs the appetite, speeds up the metabolism, detoxifies the colon, increases energy levels, and boosts weight loss. Furthermore, our Slimmers for Men products also prevent the arteries from hardening by reducing oxidative damage and lowering the cholesterol.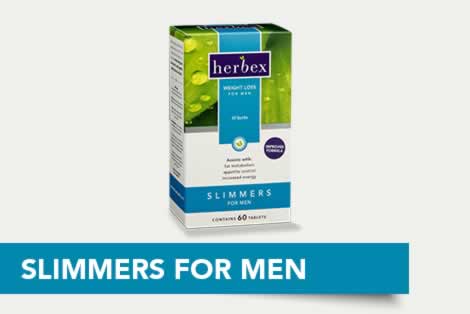 Herbex Slimmers for Men Tablets are a general tonic containing 10 herbs to assist men with weight loss. It also helps to increase energy, burn calories and fat, control appetite, detoxify and acts as a diuretic.
 Get Lean and Toned with Our Powerful Fat Burners for Men
 Specially formulated with natural, powerful plant roots and herbs that increase the metabolism, our popular range of Fat Burners gives you loads of energy during the day, reduces food cravings between meals, detoxifies the colon, and burns the fat away. Using a broad range of powerful plant roots and herbs, one of them being green tea, our powerful range of Fat Burners contains high levels of antioxidants, caffeine, carotenoids, amino acids, enzymes, and plenty of protein, which aids in the development of lean and toned muscles. What's also great about our Fat Burners is that they can be purchased in the form of drops, tablets, and concentrates that are available in delicious flavours.
At Herbex, we're a brand that cares about our customers, which is why we also offer exceptional online support that helps people with their health and weight-loss journey. To learn more about our Herbex Slimmers products containing guarana, or our Fat Furning products for men that contain green tea, contact us today.
It is never too late to take the first step towards a healthier lifestyle, whether you are a man, a woman, young, or old – make the right choice today.
Get to your nearest Clicks for the promo running on the selected Men's Range until 22.05.2018